2018 HOUSE+GARDEN TOUR FAQs
How do I purchase tickets?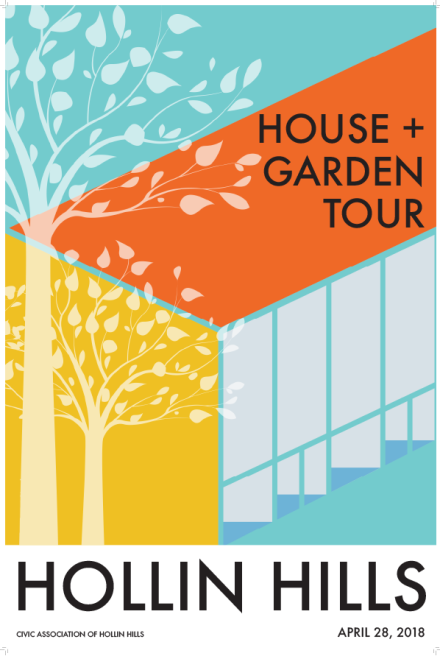 Tickets for the 2018 tour are now SOLD OUT and we will NOT be selling tickets the day of the tour.
Where do I pick up my pre-paid tickets?
Registration and ticket pick up will take place 11:00 am - 5:00 pm. on the day of the tour (April 28) at Hollin Meadows Elementary School (2310 Nordok Place, Alexandria, VA 22306). There are no refunds, including for inclement weather.
In order to pick up your tickets, you will need a print out of the email you received, or you can simply show it to us on your phone.
The official tour poster ($15), the Hollin Hills book, Hollin Hills: A Community of Vision ($25), and a Hollin Hills reusable bag ($5) will be available for purchase at Registration.
We will accept cash or credit cards. If you already purchased a book and/or poster when you purchased your tickets online, you will be able to pick them up at Registration.
When can I visit tour houses and gardens?
Tour homes and gardens are open from noon until 6:00 p.m.
Can I bring children or pets on the tour?
Children under 12 years of age will be admitted free, but must be closely supervised in all houses and gardens. No pets are allowed on the tour.
How many houses and gardens will be featured on the tour?
The tour will feature 11 houses and gardens.
What is the tour route?
The tour is self-guided and features houses and gardens that are located throughout the neighborhood. Our volunteers will recommend a cluster of houses and gardens for you to start your tour, and you may visit these houses and gardens in any order. Given the size of our neighborhood, you may find it easier to drive from one cluster to another. Please note, we do not make public the list of houses or gardens prior to the tour.
Where will I be able to park and will restrooms be available?
Parking at Registration will be limited. However, we understand once leaving Registration, most attendees will likely drive and walk to a cluster of houses and gardens. We just ask that when parking in the neighborhood, try not to park on the grass and do not block any driveways.
In addition to providing "long-term" parking and restrooms at the Registration location, parking and restrooms will also available at Hollin Hills Pool and parking will be available at Hollin Meadows Swim & Tennis Club. (Attendees will receive a map at Registration that shows all of these locations.)
Is there any place to get something to eat?
Two food trucks, Captain Cookie & The Milkman and Big Cheese will be available at Registration for lunch or a quick snack.
Any additional information I should know about attending the tour?
In an effort to protect the floors of the homes, attendees will be required to wear booties inside all of the homes. The booties - disposable covers that go on easily over your shoes - will be provided complimentary.
Will I be able to take photos of the homes?
Interior photography is permitted in most, but not all of the featured houses. The tour brochure will indicate what is permitted at each house - please honor the homeowner's request. We're very excited to see what attendees loved most about the tour, so please share your photos and thoughts with the hashtag #hhhgt2018!
How can I learn more about the architecture and the homes?
The Friends of Hollin Hills will be sponsoring a complimentary pre-tour lecture! Architect and Hollin Hills resident, John A. Burns, FAIA, will present "An Architectural Laboratory: A History of Hollin Hills" at 10:30am at our Registration location, Hollin Meadows Elementary School.
Additionally, Docents, knowledgeable about the specific houses and gardens will be available, as well as architect and design docents that can answer questions about the unique architecture.
Where do the funds raised from the tour go?
The proceeds from the tour goes to the
Civic Association of Hollin Hills which is dedicated to the preservation and enhancement of the Hollin Hills community.
If you have questions regarding purchased tickets or specific event information, please email tickets.hhhgt@gmail.com